Joanne L. Prasad, DDS, MPH
Be Prepared: Path Happens
Total CEs: 6 credit hours
Location: Scottish Rite Center at 332 E. 1st Street North, Wichita
Time: 9 a.m. – 4 p.m. (doors open at 8:00 a.m.)
Lunch and snacks provided for each registrant.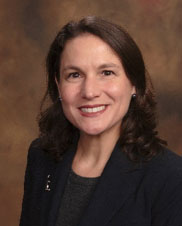 About Dr. Prasad:
Dr. Joanne Prasad is a board-certified oral and maxillofacial pathologist and an Associate Professor in the School of Dental Medicine (SDM) at the University of Pittsburgh, where she has been teaching predoctoral, dental hygiene, and graduate students and residents since 2005. She is director of courses in histology, oral and maxillofacial pathology, and the biological sciences. Dr. Prasad also serves as a staff surgical pathologist and consultant for the biopsy service of the faculty practice. In addition to her teaching responsibilities and providing oral pathology services at her school, Dr. Prasad was recently appointed Assistant Dean for Academic Affairs.
Her current research interests vary from the histologic profile of oral lesions to topics related to dental public health and education. She has been published in various journals, including JADA, Oral Surgery Oral Medicine Oral Pathology Oral Radiology, Head and Neck Pathology, and the Journal of Dental Education. Dr. Prasad earned her Doctor of Dental Surgery degree from the University of North Carolina at Chapel Hill in 1995. She then completed a General Practice Residency at Fletcher Allen Health Care (Burlington, VT), an Internship in Oral and Maxillofacial Surgery at Charity Hospital (New Orleans, LA), as well as a 3-year residency program in oral and maxillofacial pathology at The New York Hospital Medical Center of Queens (Flushing, NY). Most recently, she earned a Master in Public Health degree from the University of Pittsburgh.
Lecture:
Be Prepared: Path Happens! (AGD Code 730)
Enhance your diagnostic skills, build self-confidence in managing pathologic conditions, and come learn about some current "hot topics" in oral pathology. This course is designed for general dentists, specialists, and hygienists, and includes a comprehensive review of relevant topics in oral pathology. Topics discussed will include: epithelial pathology from dysplasia to carcinoma, identification and management of premalignant lesions, the efficacy of commercially available "cancer detecting" products, ongoing research into the pathogenesis of odontogenic tumors, current World Health Organization classification of odontogenic lesions, clinicoradiographic-pathologic features of odontogenic cysts and tumors, impact of medications on oral hard and soft tissues, and common differentials in oral pathology.
The course will emphasize the diagnostic features, as well as the management and treatment options, of various pathologies. The course will also include an interactive clinicopathologic correlation session, where attendees can actively practice their diagnostic skills and are encouraged to participate in the discussion.
Learning objectives:
Recognize and describe clinical features of premalignant and malignant oral epithelial lesions and identify the most appropriate management approach for each case.
Describe the pros and cons of currently available "cancer detecting" products.
Recognize and describe the clinical and radiographic features of various oral pathologic lesions and conditions.
Identify the best approaches in managing various oral pathologic lesions and conditions.
Discuss some of the current research efforts related to odontogenic tumors.
Recognize and manage (or mitigate) the impact of medications on oral soft and hard tissues.