Easwar Natarajan
Oral Pathology – Pre-Cancer, Oropharyngeal Cancer, and Ulcerative Conditions
Total CEs: 6 credit hours
Location: Distillery 244, 244 N. Mosley, Wichita
Time: 9 a.m. – 4 p.m. (doors open at 8:00 a.m.)
Lunch and snacks provided for each registrant.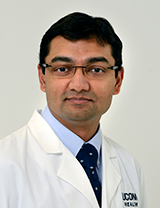 About Dr. Natarajan
Easwar Natarajan received his Bachelor of Dental Surgery degree from Bangalore University, India in 1998. He completed his post-graduate residency training in Oral Pathology and graduated with a Doctorate of Medical Sciences in Oral & Cancer Biology from Harvard University in 2005.
Easwar joined the faculty at UCONN Health in 2005, and is Associate Professor in the Department of Oral Health and Diagnostic Sciences. He teaches histology, general pathology, and oral pathology in the school's pre doctoral and graduate curricula. His research interests include the study of mechanisms that regulate epithelial carcinogenesis. Easwar is an associate in the University's Oral Pathology Biopsy Service, and sees patients referred for clinical diagnostic consultations. He is a Diplomate of the American Board of Oral & Maxillofacial Pathology, and a Fellow of the American Academy of Oral & Maxillofacial Pathology.
Lecture: Oral Pathology – Pre-Cancer, Oropharyngeal Cancer, and Ulcerative Conditions
The morning lecture is a 3-part lecture-based course that will cover the pathogenesis of oral cancer and oropharyngeal cancer, and discuss the classic clinical presentation, diagnostic recommendations, management and monitoring guidelines for these important clinical conditions.
In the afternoon, participants will receive instruction on the pathogenesis of painful oro-facial ulcerations as well as mucocutaneous blistering disorders. We will discuss the foundational concepts of acute & chronic ulcerative conditions, discuss the classic clinical presentation, diagnostic recommendations, and management guidelines (specific pharmaceutical approaches).