Location: Distillery 244, 244 N. Mosley, Wichita
Time: 9 a.m. – 4 p.m. (doors open at 8:00 a.m.)
Lunch and snacks provided for each registrant.
Foroud Hakim, DDS
Work Smarter, Not Harder (AM) and Diagnosis & Treatment of the Complex Restorative Patient (PM)
Total CEs: 6 credit hours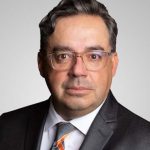 About Dr. Hakim
Dr. Foroud Hakim is a nationally and internationally recognized speaker with an unwavering passion for all aspects of contemporary restorative dentistry. He is particularly motivated to help colleagues in improving treatment outcomes, patient's experiences, as well as practice efficiency. He thrives on audience participation and interactive learning models Dr. Hakim has balanced private practice and dental education for 31 years in the San Francisco Bay Area. He splits his time between "real world/wet fingered" private practice, and teaching dental students at University of the Pacific, as well as colleagues across the country.
He earned his DDS in 1991 and went on to earn his MBA in 2000. He is former Vice Chair of the Dept. of Restorative Dentistry and is also active in research and publication. He is the course director for Occlusion, TMJ & Advanced Restorative Concepts. He has also served as a director in the Pacific Esthetics, Complex Care &Implant clinics. He earned his DDS in 1991 and went on to earn his MBA in 2000. His areas of focus range from predictable and lasting adhesion, minimally invasive single tooth dentistry all the way through to full mouth esthetic rehabilitation and smile design.
Working Smarter Not Harder – Indirect Restorations:
Starting from single tooth restorations, and growing in complexity to full esthetic and functional rehabilitation, the spectrum of contemporary crown and bridge topics are visited. The course will offer particular attention, insight and instruction as it relates to practice efficiency, predictability, eliminating redos, patient satisfaction and profitability.
Learning Objectives:
Improving speed while increasing quality.
Treatment planning for success.
Diagnosis and Treatment of the Complex Restorative Patient:
Vertical dimension loss, crowding, misposition, erosive disease, destructive parafunction, inadequate restorative space, unrealistic expectations and challenging patient psychologies are some of the factors that can complicate diagnostics, treatment planning and restorative delivery. This course takes a case-based approach to reviewing a myriad of complex case types including those that require a multidisciplinary approach to care. This program promotes audience interaction and encourages attendees to share challenging cases from their own practice.
Learning Objectives:
Diagnostics including models and articulation.
A 4-stage approach to patient care.
Verbal ques, habits and red flags that should never be missed.
Analogue and digital case design.
Effective communication with the complex patient.
The importance of incorporating pre-prosthetic orthodontics in differential treatment planning.