Brian Novy, DDS
Nobody Caries (AM) and Oral Fluid Fantasyland (PM)
Total CEs: 6 credit hours
Location: Distillery 244, 244 N. Mosley, Wichita
Time: 9 a.m. – 4 p.m. (doors open at 8:00 a.m.)
Lunch and snacks provided for each registrant.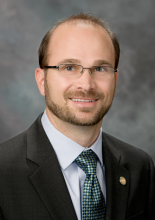 About Dr. Novy
Dr. Nový is the Chief Dental Officer of the Alliance Dental Center in Quincy, Massachusetts. The California Dental Association Foundation presented him with the Dugoni Award for "Outstanding contributions to dental education," and his office was the first to receive the title, "American Dental Association Adult Preventive Care Practice of the Year." He served on the ADA Council of Scientific Affairs from 2010 to 2014, and as chair of the CAMBRA coalition. In 2016 he was appointed the consumer advocate on the United States Food and Drug Administration Dental Products Panel.
Morning Lecture: Nobody Caries
Sometimes it seems as though our patients don't grasp the basic concept of home care. Other times our patients with impeccable hygiene develop rampant decay and we feel helpless because we can't figure out what's going on. The mouth is a remarkable environment that cariologists are finally beginning to understand, and so can you. Come learn everything you didn't know about plaque and the amazing organisms that make the mouth a wonderful place to work.
Learning Objectives:
Explain the mixed ecological approach to caries causation
Apply Evidence Based and novel preventive therapies
Quickly identify high caries risk patients before they develop disease
Stop "watching" lesions and see them get smaller
Afternoon Lecture: Oral Fluid Fantasyland
The mouth is the tide pool of the human body, defended by a secretion that some claim to be "The ideal diagnostic fluid."  Saliva (or lack thereof) drives the disease processes that oral healthcare professionals have come to know, love, and despise, and yet our frequent interaction with this fluid most often consists of suctioning it out of our way as quickly as possible.  If you struggle to help your patients who lack saliva, this course will provide you with new techniques, and will leave you drooling for more.
Learning Objectives:
Defend and refute the Stephan curve
Explain the role of salivary proteins in stabilizing the oral ecosystem
Mitigate the effects of xerostomia and hyposalivation