Cameron A. Kuehne DMD, MS
TMD Made Easy & Dental Sleep Medicine for the General Dentist
Total CEs: 6 credit hours
Location: Scottish Rite Center at 332 E. 1st Street North, Wichita
Time: 9 a.m. – 4 p.m. (doors open at 8:00 a.m.)
Lunch and snacks provided for each registrant.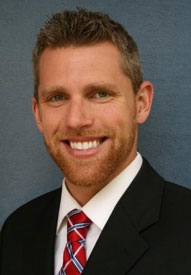 About Dr. Kuehne:
Cameron A. Kuehne DMD, MS has accumulated over 3000 hours of continuing education related to craniofacial pain, sleep disorders, and pain management. He obtained a Master of Science degree in the areas of craniofacial pain and dental sleep medicine from Tufts University School of Dental Medicine.
Dr. Kuehne is a Diplomate of the American Board of Craniofacial Pain, a Diplomate of the American Board of Dental Sleep Medicine, and a Diplomate of the American Board of Craniofacial Dental Sleep Medicine. His practice is accredited through the American Academy of Dental Sleep Medicine.
Lecture:
"TMD Made Easy" (AGD code 730)
What causes people to grind their teeth? Stress, correct? Recent studies have suggested that the airway may be the cause of bruxism in some people. TMD conditions can be induced by bruxism. As more studies continue to be undertaken, we are starting to see that these issues may all be connected. Dr. Kuehne will cover the basics of the anatomy associated with the TM joint, the most commonly seen tmj issues and how to properly diagnose/treat those issues, and how obstructive sleep apnea is related to TMD.
Learning objectives:
Basic anatomy of the jaw
The difference between the most common TMD symptoms seen in the dental practice
How to treat these problems
Connection to bruxism and sleep apnea
Case presentations
Lecture:
"Dental Sleep Medicine for the General Dentist" (AGD code 200)
General dentists are in the unique position of seeing their patients every six months on average. It should be every dentist's responsibility to screen and, when appropriate, treat their patient base for the serious medical condition known as obstructive sleep apnea. Dr. Kuehne will lead a discussion that will include the basics of upper airway anatomy, an overview of the importance of treating obstructive sleep apnea, screening and diagnosing, examination, appliance selection, side effects of oral appliances, and practical pearls for treating obstructive sleep apnea.
Learning objectives:
Basic anatomy of the airway
How to interpret a polysomnogram
Oral appliance therapy
Titration of the oral appliance
Managing side effects of oral appliance therapy